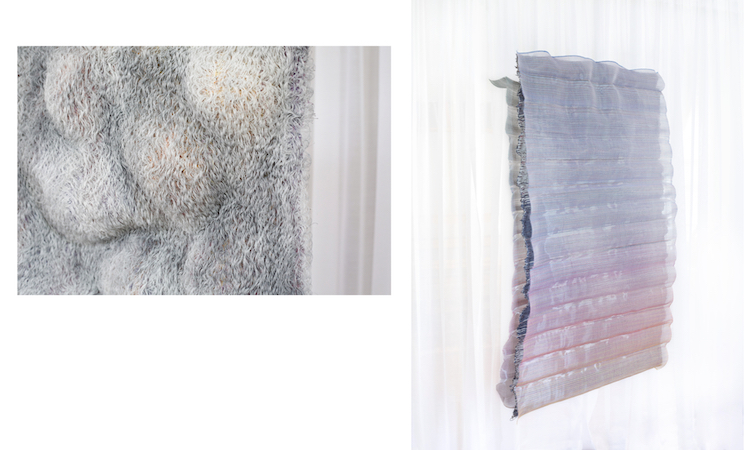 Our experimental weaving application process has concluded and we are happy to announce that our 2023 Experimental Weaver in Residence will be Elizabeth Meiklejohn.  We have also extended an invitation to Kathryn Walters to join us in Fall 2023 as an extension to our residency program that focuses on collaborations with students currently studying at other academic programs. 
This year, we had a much smaller, but very high quality set of applicants. This resulted in us combining the shortlist and finalist phases by focusing on the top six applicants, each of whom brought unique perspectives and approaches to our ever-evolving notions of what experimental weaving is and how we might be able to support it through collaborations across craft and engineering. We chose to work with Elizabeth for the next residency because her practice combines garment design, custom software development, woven structure and a really inspiring practice of hacking and building her own equipment to explore new possibilities for woven structure. Her aesthetic beautifully crosses the digital and physical, often playing at the intersection with simulations as much as shimmering multilayer structures. We are excited to learn from her approaches and share them with this community. She recently finished her MFA in Textiles from the Rhode Island School of Design and will be joining us in February 2023.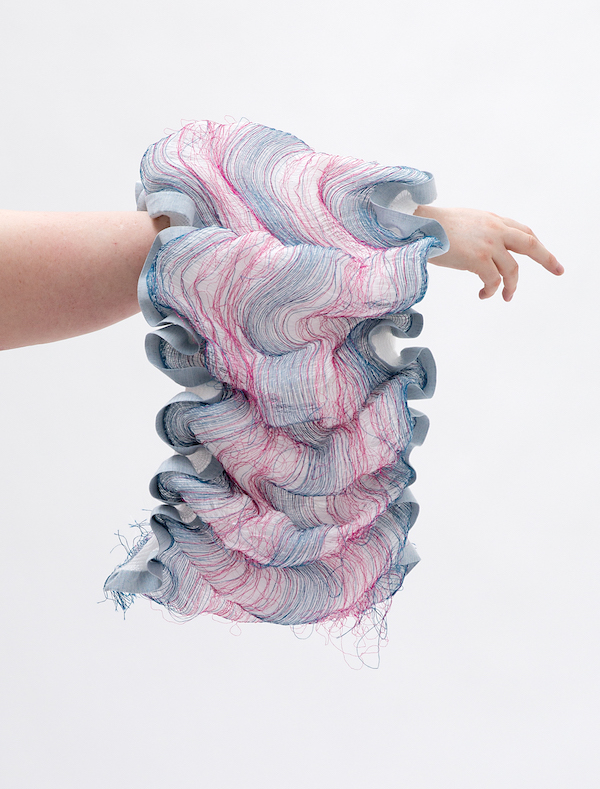 One of the hardest parts of the residency selection process is choosing only one person, and we've been looking around for ways we can grow the program. In this spirit, we extended an invitation to Kathryn Walters to join us in the Fall as a kind of research exchange. Kathryn is currently a PhD researcher at the Swedish School of Textiles who elegantly pushes the boundaries of woven structure, her work demonstrates techniques for self-shaping, shape changing materials and structures. You can learn more about her (amazing!) practice by viewing her talk in this year's experimental weaving talk series: https://www.youtube.com/watch?v=NSEAEPUOC1o. Kathryn will be visiting the lab in Fall 2023.
Stay posted for more updates from the residency and a future call for 2024 artists in residence. We will also continue our experimental weaving talk series next year to feature some applicants from our process and to bring broader attention to the practices of experimental weaving across the world. In the meantime, we have published all shortlist applicants, finalists and committee members who have provided permission below.
This program has been funded by the National Science Foundation under grant # 1943109.
2023 Residency Finalists
Isabelle Camarra
https://isabellecamarra.cargo.site/
Isabelle Camarra is a Material designer specializing in industrial weaving and knitting whose work playfully integrates texture and biomaterials. 
Kathryn Walters 
https://www.kmwalters.com/
@kw.textiles
Kathryn Walters investigates transformative textiles and three-dimensional form. Her work explores form-generating behaviour.
Lars Shimabukuro
www.lars-shimabukuro.com 
@landlockedfishcake 
Lars Shimabukuro's work crosses photography, printmaking and weaving and showcases playful combinations of color and structure.

Lucy Smyth
https://www.lucysmyth.com/
@loom_labyrinth
Lucy Smyth is Fascinated by stubborn materials and challenging structures. Her mathematical explorations spans costume and weaving, focusing on texture and form.
Melanie Olde 
melanieolde.com 
@melanie_olde
Inspired by biology and structure, Melanie Olde is an Australian-based researcher and weaver, who investigates movement and sensory experience in three-dimensional cloth.