Wednesdays at 9AM, Mountain Standard Time
Online, Fall 2023
The Experimental Weaving Talk Series returns this Fall! Join us as we invite a new round of weavers to share their approach to weaving and experimentation. This talk series began in 2022 to engage different perspectives on what "experimentation" means to various weavers and how it becomes enacted across practices. Our goal with the series is to bring attention to weavers whose work animates possibilities for weaving. In defining experimental weaving, we also aim to illuminate how these are inherently practices of technological innovation and how students of technology can benefit from learning about the histories of weaving and the utility woven techniques.The talks are intended for the public and are all accessible online, as well as for students in the ATLAS Institute at the University of Colorado Boulder, as part of the "Experimental Textiles" course.
All talks will be hosted via Zoom:
Elizabeth Meiklejohn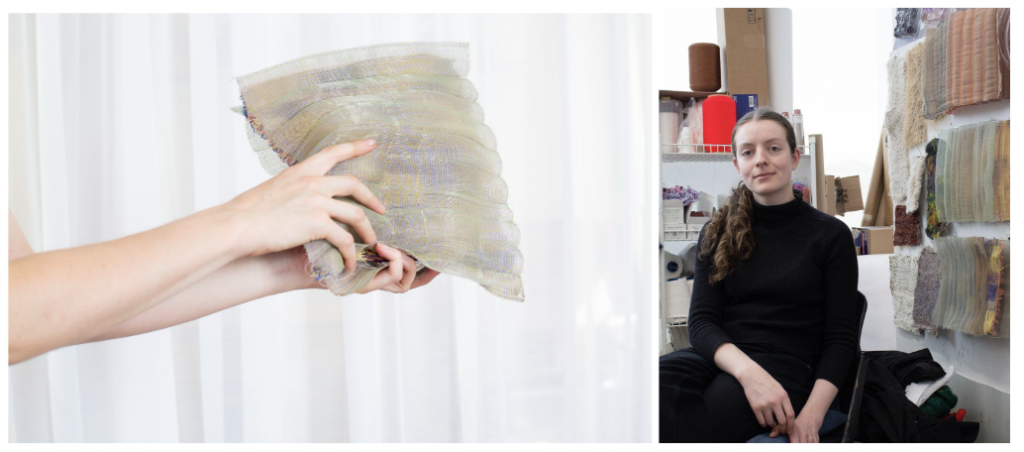 September 27, 2023
Elizabeth Meiklejohn is a textile engineer, designer and researcher focused on complex structures and experimental techniques in weaving. Her work blends digital and hands-on methods to achieve dynamic forms and capabilities in fabrics, all while investigating material origins and tendencies. Elizabeth was the 2023 Experimental Weaver-in-Residence; this talk will present her work as well as the outcomes of the residency.
Elizabeth will share her background and areas of research as a textile designer, from 3D woven structures to self-shaping fabric behavior. Her talk will cover the time she spent as Unstable Design Lab's 2023 Experimental Weaver-in-Residence, sampling, prototyping and creating an interactive fabric while developing new systems of notation for woven textiles.
Patrice George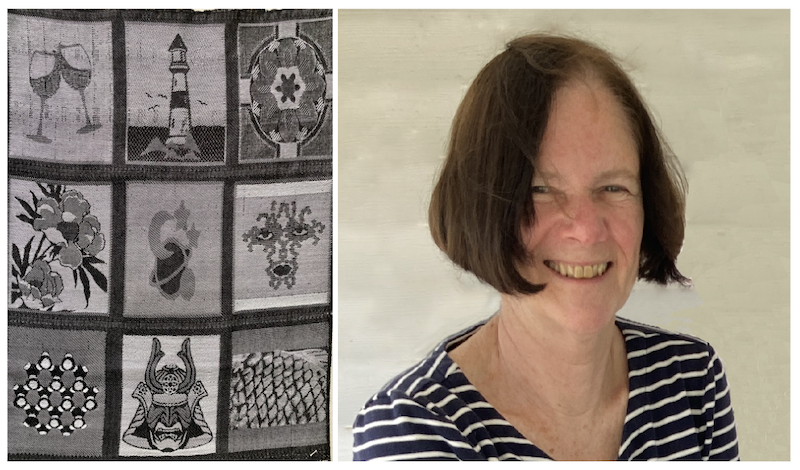 October 25, 2023
Patrice George recently retired from the Fashion Institute of Technology, where she was  Associate Professor in the Textile Development and Marketing Department for 18 years, specializing in woven textile design, and the history of the textile industry. She participated in beta-tests and product education in the emerging field of computer-aided design in the early 1980's, creating an early course in computer-aided woven design for the School of Visual Arts in 1984. She has been a design consultant to the interior textile industry since founding her NYC studio, Patrice George Designs, in 1979. She has also been a guest instructor at textile schools, a consultant to international handweaving projects, and a frequent presenter and workshop leader at professional textile seminars and conferences.
We've invited Patrice to reprise the presentation she offered at the Praxis Digital Weaving conference: From the PC to the TC:  A VERY Short History of Digital Design For Woven Textiles
Patrice's talk will trace the history of  digital weaving technology, from IBM's first software patent in 1970 for Janice Lourie's Textile Graphics System, through the adaption of digital textile technology by industrial mills, hand loom and power loom manufacturers, textile education and artists' explorations.  The transition from slow design to advanced applications for woven textiles today will be discussed and illustrated.
Lucy Smyth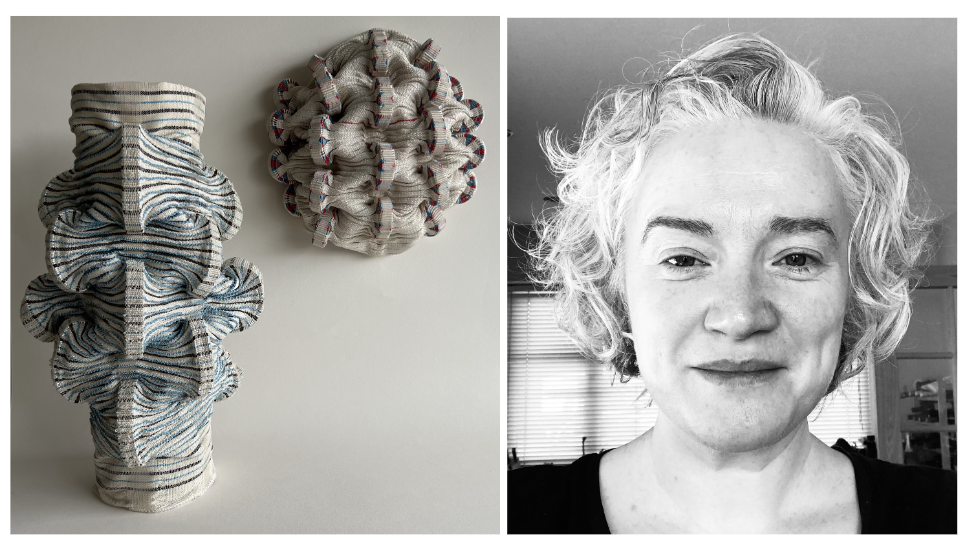 November 8, 2023
Lucy Smyth is a weaver based in Northern Ireland who works across art, design, education, and costume. Through the recurring themes of movement and contrast, Lucy interrogates the relationship between 2D and 3D to create sculptural interdisciplinary fabrics or artworks.
Driven by material and process, Lucy's practice explores inherent behaviors to challenge and reimagine. This practical connection and the use of thinking tools such as paper folding, fabric manipulation, and sketching nurture her work to creatively evolve and achieve, achieving technically complex structures.
Lars Shimabukuro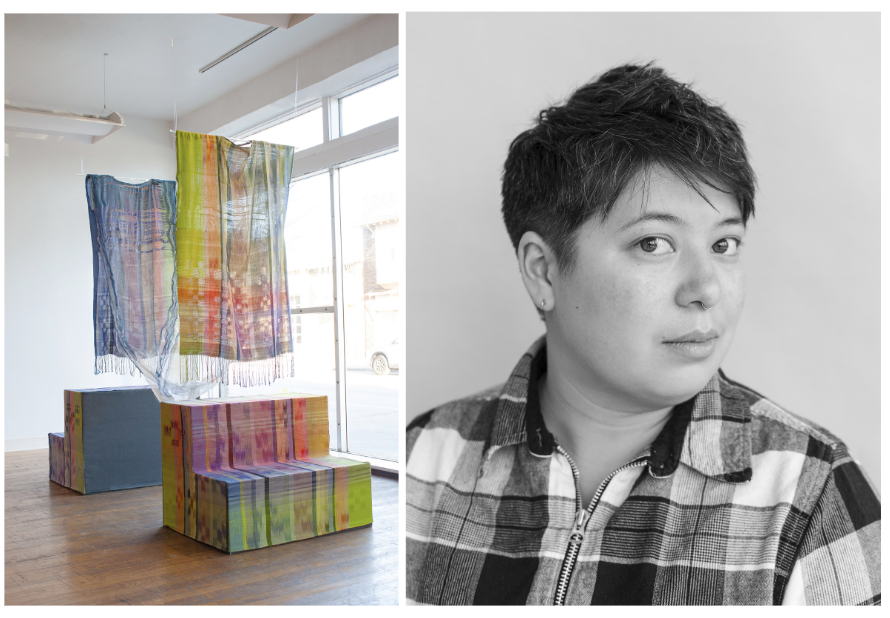 November 29, 2023
Lars Shimabukuro (b. Honolulu, Hawai'i) is a mixed and trans artist whose work expands ideas of homelands, family, and memory to include the queer landscapes that raised them. He earned a Bachelor of Arts degree in Studio Art from Yale University in 2013, an Associate Degree from Haywood Community College (NC) focusing on weaving in 2019, and completed the Core Fellowship program at the Penland School of Craft in 2023. Lars has shown nationally and internationally, and teaches weaving at craft schools.
Shimabukuro will share about their process of translating identity into weaving, and how weaving structures inspire the forms in their sculptural work. He will also share about his practice in other materials, and how those explorations are starting to incorporate textiles.
Acknowledgements
This series is hosted by Steven Frost and Laura Devendorf with the support of Etta Sandry.
---
Archive: 2022 Experimental Weaving Talk Series
Melanie Olde
Bio: Melanie Olde is a weaver, researcher, teacher and artist. She researches cellular structures for form, function and array to interpret these in biomimetic, moving, woven 3-dimensional cloth to advance innovative exploration. Olde works on an AVL 24 shaft CompuDobby Loom in Canberra, Australia and has also worked with mechanical and computerized jacquard systems.
Melanieolde.com
@melanie_olde
Kathryn Walters
Bio: Kathryn Walters is a PhD researcher in Textile Design at the Swedish School of Textiles. Her research investigates transformative textiles developing three-dimensional form. She explores emergent behaviour arising from the combination of material properties and textile structures, where textiles are seen as systems with responsive properties. Her process embraces the use of industrial jacquard looms as an extension of weaving as craft.
kmwalters.com/

Jessy Lu
Jessy Lu is an artist exploring textiles as a form of computation with respect to both their historical origin and technological future. With a background in R&D as a materials engineer, she has worked on exploratory applications for fabrics used in hardware technology. Her art practice focuses on exploring image processing techniques and the use of algorithms to determine pattern and color allocation. Currently, Jessy is working on a research project in Taiwan studying knots as a form of craft tradition, sculptural object, and as a framework for tactile modalities of aesthetic experience.
Alyson Ainsworth
Bio: Alyson Ainsworth is a New York City-based weaver whose work explores overcoming traditional limitations of the loom. Through the use of materials, hand manipulations, and complex weave structure, she creates weavings that combine new techniques with the familiar. She is interested in pushing the boundaries of weaving as a discipline—from both art and design perspectives—and exploring the connection of functional and aesthetic textiles in the process.
Alysonainsworth.com
@alysonainsworth
Victoria Manganiello
Bio: Victoria Manganiello considers weaving a form of communication. Her ethereal fabric pieces radiate color and light while referencing computer programming and bar codes. Manganiello is currently producing a documentary film about Women and Textiles and is an instructor at NYU and the Parsons School of the Arts in New York. Her textile-based installations combine hand-spun yarns and hand-mixed dyes with modern materials and techniques, creating conceptual hybrids that lean towards the future while employing methods from the past.
victoriamanganiello.com
@victoriamanganiello
Etta Sandry
Etta is the 2022 Experimental Weaver In Residence, this talk will present her work as well as the outcomes from the residency.
Bio: Etta Sandry is an artist, educator, and facilitator from the midwestern United States, currently based in Tiohtià:ke/Montreal. Her material-focused research is rooted in fibre and weaving and spans media through sculpture, writing, and installation. Etta completed her MFA in the Fibre & Material Practices program at Concordia University in the spring of 2021. She has exhibited her work in the United States and Canada and was the 2022 Experimental Weaver in Residence at the Unstable Design Lab in Boulder, Colorado.
ettasandry.com/
@ee_teetee_ay