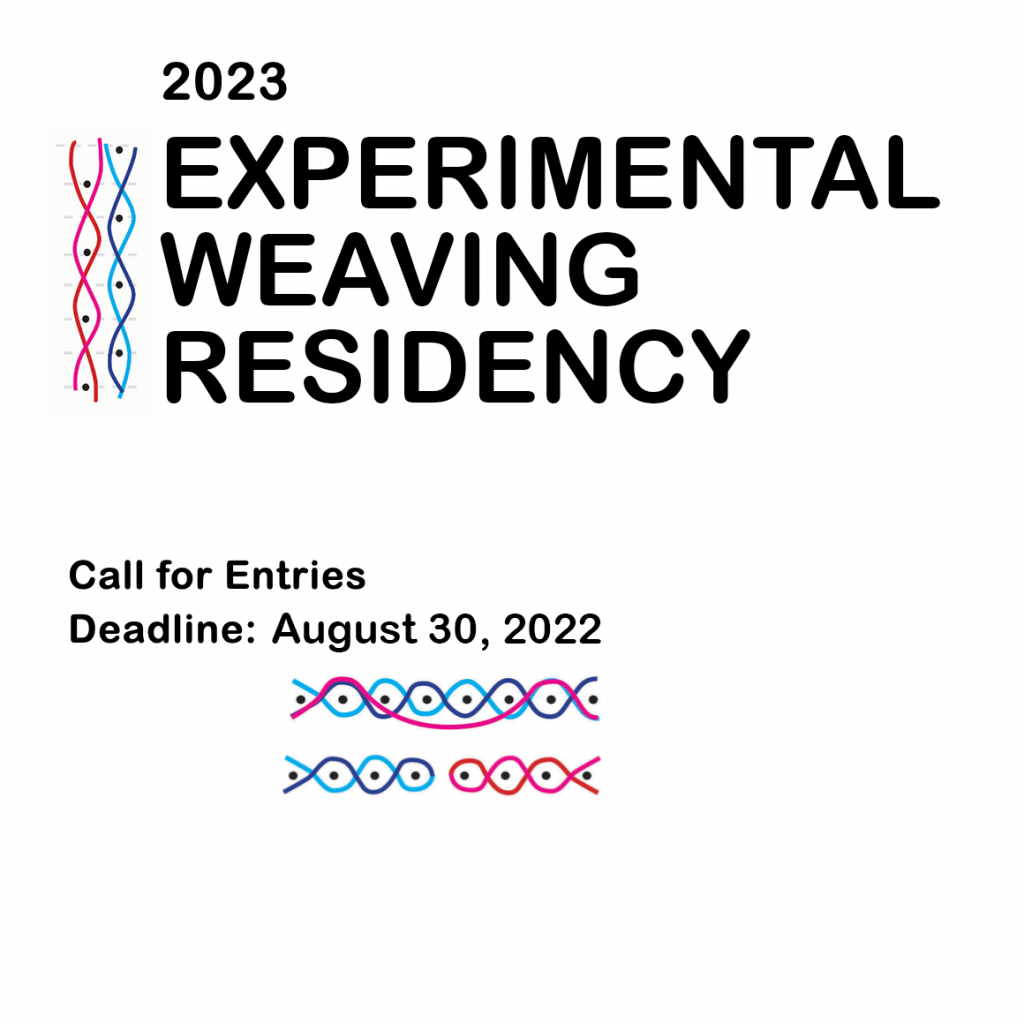 Applications for the Next Experimental Weaving Residency are Now Closed
Spring 2023 : Cross-section
The Unstable Design Lab is hosting its third experimental weaving residency with the goal of developing new techniques and open-source resources that can co-evolve fiber arts and engineering practice. Our annual theme, cross-section, speaks to our ongoing interest in growing community at the intersections of craft and technology. As such, we look to this call to not only select a resident, but to identify a group of like-minded folks with whom we can collectively define the commitments and possible societal contributions of experimental weavers. As such, we invite interested parties to attend a series of experimental weaving talks we are hosting this Fall.
The chosen resident will work with the Unstable Design Lab, as well as researchers from the ATLAS Institute and University of Colorado more broadly, to create a series of swatches inspired by challenges currently faced by engineering researchers. For example, shape weaving techniques for creating form-fitting and/or compression garments for counter-pressure spacesuits, integration of power harvesting diodes, compostable or easily reusable textile structures for zero-waste manufacturing, or structures that dynamically fold and unfold to support mechanical structures or soft robotics (to name a few, but not all, possible spaces for experimentation). Applicants may wish to review our recent projects to get a stronger sense of the interests and values of the group. Applicants should be open-minded, curious, and above all deeply knowledgeable about woven structures and their behaviors. No knowledge of computer science, electronics, or engineering is required for participation.
Timeline
| | |
| --- | --- |
| Application Deadline | August 30, 2022 |
| Notification to Selected Applicant | October 1, 2022 |
| Residency Dates | 12 weeks between Jan 15-May 15 |
Resources
The resources available to the resident include a desk in the Unstable Design Lab, priority access to a TC2 digital jacquard loom (3W warped at 60 ends per inch), access to other weaving, spinning and knitting equipment in the lab, access to traditional and novel weaving materials, programming support for some custom software needs AdaCAD, access to the fabrication facilities at the ATLAS Institute, access to motion-capture and high-end audio equipment in the B2 Center for the Media Art and Performance. While we can provide instructions for getting started on the TC2, the artist is ultimately responsible for the design and production of their swatches—there is no technician devoted to realizing the work on the equipment.
As a collaborator in the Unstable Design Lab you will be working among artists and researchers across many domains of research. You would share immediate lab space with PhD students Deanna Gelosi, Eldy Lazaro, Mikhaila Friske, Sasha De Koninck, and Shanel Wu as well as undergraduate researchers. We will work in close partnership with Allie Anderson's Bioastronautics Lab, specifically with her PhD student Ella Schauss
Expectations
The resident will be expected to work at least 30 hours per week with the lab members and collaborators evolving concepts that address the artist's interests as well as the engineering teams' needs. The selected resident must be willing to share any techniques they develop as open-source resources to both the collaborators and public more broadly, including producing necessary documentation for others to replicate their techniques. To facilitate the exploration of projects of mutual interest, the organizers will schedule meetings with various researchers during the first week of the residency to better understand their needs and challenges when it comes to integrating textile structures into their research. The resident, then, will be able to select the challenges that most interest them to further explore, sharing their findings with the research teams as they develop.
Stipend, Housing and Timeline
| | |
| --- | --- |
| Stipend* | $9520 USD |
| Airfare Reimbursement | $450 USD |
| Materials** | $500 USD |
* the stipend will be taxed by the US government and this may have significant impact for international applicants
** materials budget does not go directly to artist, but is to be spent by the lab during the residency on supplies determined by the artist.

The residency scheduling is flexible but should total 12 weeks should take place between January and May 2023 in Boulder Colorado. The resident will receive $9520 as a stipend, $450 towards airfare to and from Boulder, and a materials budget of $500. The artist will be responsible for locating housing and travel to and from the university. International applicants are welcome to apply but should note that the stipend will be lower due to taxes taken by the US government on international workers.
A Note for International Applicants
We welcome international applications. If you are of non-US citizenship, please make note that the stipend will be particularly affected by US taxes on international workers as well as some fees for VISA processing in your country of citizenship. As we reach the later stages of the application process, we may use this information to provide you with more specifics on the taxes you may incur as well as verify with the host university that you would be eligible to work within the institution. We can provide flexibility in the residency dates to support applicants who may be facing additional challenges obtaining a VISA and/or traveling to the US due to current current restrictions given COVID. For more information on the particular program through which we host residents, visit: https://www.colorado.edu/isss/cu-departments/hiringhosting-international-students-scholars/international-scholars-j-h-e-pr/j-1-3
History
2019: The first iteration of this residency ran for a 6-week period in summer 2019 with support for the center for craft materials-based research grant. The resident, Sandra Wirtanen, and collaborator, Katya Arquilla, focused on the development of techniques for weaving dry electrodes for physiological monitoring. During the residency term, Katya and Sandra worked closely to sample different methods for producing a shape fitting garment with integrated electronics as well as different structural explorations of woven electrodes. The results and outcomes are documented in several formats here.
2022: After taking a delay for COVID, we changed the residency structure to allow for a longer time for the resident and our team to work together during the regular university semester. We also decided to focus more on ideation and play as opposed to the production of a single concept outcome. Our next residency began in Jan 2022 with our selected weaver, Etta Sandry. While the residency was postponed to Fall 2022, we worked closely in the first month to produce instructional materials related to woven structure and its potential applications to engineering research. Those results can be found here:
Organizers
Laura Devendorf
Director of the Unstable Design Lab
Assistant Professor, ATLAS Institute
& Dept. of Information Science
website

Steven Frost
Faculty Director of the
B2 Center for Media Arts & Performance
website
Allison Anderson
Assistant Professor, Smead Department of Aerospace Engineering Sciences
website
Selection Committee
The selection committee and organizers will work together will determine the finalists. The organizers will ultimately select the chosen resident.
Kristina Andersen,
Future Everyday, Eindhoven University of Technology
website
Sarah Rosalena Brady,
Computational Craft, University of California Santa Barbara,
website
Annet Couwenberg,
Fiber and Material Studies, MICA,
website
Annapurna Mamidipudi,
Scholar and Craft Researcher,
website
Alex McLean
Research Fellow, Then Try This
website
Holly McQuillan
Critical Textile Topologies & Materializing Futures, TU Delft
website
Vernelle A. A. Noel,
Director of the Situated Computation and Design Lab, Georgia Tech
website
Jane Patrick,
Creative Director, Schacht Spindle Company,
website
Etta Sandry
Weaver and 2022 Experimental Weaver in Residence
website
Clement Zheng
Assistant Professor, National University of Singapore.
website